Labels in special education have always been controversial. No one likes to pin a label on a child. But in order for children to get necessary services, an IEP, or a 504 plan, parents have had to get a label. How could labels be handled differently?
One of the best books I ever read in regard to classification and labels is The Futures of Children: Categories, Labels, and Their Consequences by Nicholas Hobbs.
The Vanderbilt Kennedy Center describes Nicholas Hobbs (1915-1983) as a pioneer in the field of child psychology, developing new concepts for treating children with emotional problems and children with intellectual disabilities. He was chair of the Division of Human Development at Peabody [Graduate School of Education], which combined psychology, special education, a Child Study Center, and important research projects. Under his leadership, interest grew in socially vulnerable children, leading to educational and research emphases in intellectual disabilities, emotional disturbance, and sensory-motor disorders. He was instrumental in Peabody's establishment of training programs in clinical, counseling, and school psychology, special education leadership, and research in intellectual disabilities.
There is more if you go to the link noted above. I am struck by the professionalism surrounding Hobbs and special education.
Here is what Hobbs says in his book about classification, and please read this paragraph to the end to get its full meaning.
Classification and labeling are essential to human communication and problem solving; without categories and concept designators, all complex communicating and thinking stop. We shall address abuses in classification and labeling, but we do not wish to encourage the belief that abuses can be remedied by not classifying. In fact, we shall argue for more precise categories and for appropriate programs for them, and we shall advocate safeguards to decrease the deleterious effects of classification procedures that can, in fact, have many beneficial outcomes.
I interpret this to mean that it might help students with disabilities, if educators were to precisely identify the student's strengths, weaknesses and also interests—zeroing in on academic and social needs. Using more specific categories might help students reach their full potential while minimizing the use of labels. You would need smaller class sizes and professional educators to do this.
Today's harsh reforms draw attention to labels by claiming all students can reach the same standards the reformers, most of whom have never worked with children, or studied child development, have created as the standards all children must reach. Thus, if you have a child with autism or dyslexia, or any other exceptionality, they either fit in and master the standards–or they don't.
Instead, wouldn't it be nice if education practitioners, with the help of parents who know the child best, studied the needs of the children themselves and structured educational programs for them specifically?
Most parents and educators understand that kids are a mix of abilities and things they do and don't do well. The purpose and challenge of public school should be to figure this puzzle out, and to get to know the individual children.
One current problem is that reformers have narrowed the curriculum to only two subjects–English/language arts and math, so students have nowhere else to shine. A good public school, with more subjects and classes to choose from, would make it easier to support students with disabilities no matter the label. Adding a good mix of classes available to all students would help children to succeed at what they do best.
For example, if a child has dyslexia, they might require extra assistance or time in a resource class for reading and writing, but thrive in the arts. A gifted student might take more advanced classes in main subjects, but be especially interested in a career-technical course in mechanics.
Helping children adapt to their disabilities, while mastering what they can do well, could mean the difference between their staying in school or eventually dropping out!
Including an overall diagnosis like Aspergers or Dyslexia is helpful to understand characteristics a child might display, but more specific steps are necessary in school to break down what this truly means for a student.
At the end of The Futures of Children Hobbs states:
Time and again in our efforts to make sense of classification procedures, of the effects of labeling, and of what happens to children as a result of being classified and labeled, we found a deplorable lack of research to guide decision making and to buttress judgments. The knowledgeable base for classifyng children and designing appropriate programs for them is altogether inadequate. Major policy changes are adopted (such as the closing of large institutions, the abandonment of special classes in schools, and the screening of poverty-level children for developmental disorders) without convincing evidence of their probable effectiveness. Classification systems themselves need improvement through research. We would not slow down changes made on the basis of the best available judgment, but we would urge that research be pressed to improve future judgments.
Until policy makers support educators to move beyond labels, keeping the best interest of children in mind, and allowing for a variety of goals that children can reach with pride, students will continue to be ostracized, labeling will not be minimized, and the futures of children will be dim.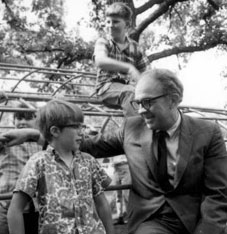 Note: The picture for this blog post is the sculpture "Come Play" by Nashville artist Katherine Blackman Haven. It was installed in front of the Hobbs Laboratory at Vanderbilt, in honor of Nicholas Hobbs, with leadership from Mary Hobbs and Ann Roos.
Hobbs, Nicholas. The Futures of Children: Categories, Labels, and Their Consequences. (San Francisco, CA: Jossey-Bass Publishers, 1975), 5, 282-283.