The attack on teacher education is fast and furious. Privatizing America's public schools means getting rid of career teachers who support instruction geared to a child's needs. A way to purge the country of real teachers is to extinguish their teacher education programs and make teaching look like a regimented practice that any drill sergeant can learn.
Some (not all) Colleges of Education (COEs) have been cash cows in the past and were in need of a face lift. But getting rid of the COEs altogether in order to allow novices to run schools like sweatshops, where teachers bark rigid orders at students and point clickers at them to get their attention, is not only abusive to poor children, but it is now going to be the law of the land!
Opt Out leader, reading specialist and activist Peggy Robertson describes here, well, the kind of boxed-in, high-stakes testing style teaching being foisted on teachers around the country. The program is from a book called Teach Like a Champion 2.0 written by Doug Lemov, who never studied child development or teaching, but who seems to know how to manage children. Lemov must be feeling like a champion himself, because his book is being used around the country to train teachers.
This kind of teaching is not student-centered. It is group think. Get all children to fit into one unit. When you know nothing about children, and how they learn, control becomes very important–along with the high-stakes testing.
It's bad enough faux teachers (Teach for America and the Teaching Fellows etc.) were employed for our most vulnerable students, but now rigid teachers are moving into all schools. No one will be able hide from them. Once teacher education programs are converted into this style of teaching, teachers will structure their classrooms as they have learned.
What other teachers will be left?
It's like Common Core being tied to the ACT and SAT tests to get into college. It's a monopoly—pure and simple.
So how is all this filtering into society? Why is this new teacher prep being allowed to take over? Social media has been filled with much teacher takeover information the last few days. Here are a few examples:
Washington Post's Lynsey Layton was the first to bring TeachStrong to our attention. It comes to us through the Center for American Progress.
Educator blogger Fred Klonsky points out that this organization is backed by the Clintons. Does Hillary Clinton understand the gravity of wiping out a whole  profession? With her experience with children, and her acclaimed love for them, does she approve of the strict reform school-like teaching for students, most of whom have no serious disciplinary problems? Why is this NOT a debate question?
Scroll down the list  of the forty, mostly corporate groups, which have signed on to remake teaching into their image of what teaching should be–and it involves the punitive teaching noted above.The sweep of these organizations, and their associations, forced me to open the window so I could catch a breath of fresh air. The NEA and AFT sit beside Teach for America, Stand for Children, The New Teacher Project (TNTP), Relay Graduate School of Education and the National Center for Learning Disabilities and more. It makes you wonder who will be left to stand up for the real teachers.
Other bloggers have written more about TeachStrong Mercedes Schneider HERE, and Peter Greene HERE.

Here's two other groups remaking teaching:
TNTP has been around for a long time. They are mostly from Teach for America, also training their own, so you have to wonder why there aren't zero problems in education due to their so-called miracles. Their new report is titled "The Mirage: Confronting the Hard Truth About Our Quest for Teacher Development." They slam the old teacher development and point to the structured, rigid teaching as well. This group has lots of visions that point to the same highly structured ideology.
Relay Graduate School of Education
You need a strong stomach for Relay if you are a real teacher who studied about child development etc. and thought you were sacrificing time and money to be a dedicated, authentic career teacher. Surprise! All you needed to do is learn how to use a clicker! And you could have answered the call of the college recruiter instead of the higher calling career teachers usually get.
Here is Jackie Mader's Hechinger Report about Relay from the other day, titled "Once aimed at charter school teachers, a teacher prep program expands — and calls for more accountability." Damn! Why not call for recess or music and art? Mayme Hostetter, dean of Relay Graduate School of Education says: I think if you're going to really improve public education for all kids you can't just focus on charters.
So there it is. They want control of all the students in all the schools, because they are destined to be the teacher preparation program to replace the Colleges of Education in all universities.
I've written about Relay before when this group tried to move into the building with the COE at the University of Memphis. They had to set up shop some place else after complaints, but there's concern they hand out fliers on campus, where you have to be careful walking, so you don't trip over the many Teach for America signs stuck in the ground. This is happening around the country.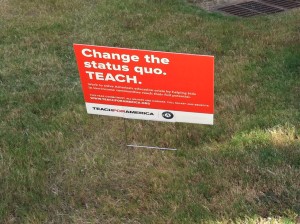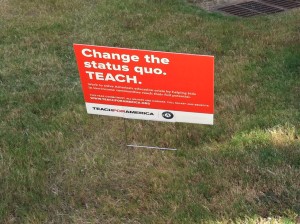 If you are a longtime teacher you may be asking yourself how these groups garner so much power with politicians. How did we get to this point? Where are the COE deans? Why aren't they speaking up for real teacher education? Well, wonder no more.
If you look at the list for TeachStrong you will see this group. If you look at the Deans for Impact website, the Relay dean sits with all the others. When real deans from respectable universities sign on with these school drill sergeants, who have an agenda to bounce teachers of substance, it will impact how teachers are made. These real deans are validating Relay and other ultra-disciplined click-click groups.
By the way, I am having trouble finding the old highly rigid teaching videos these groups used to show off online. Were they removed?
We can only hope that other deans will stand strong, reject these faux teachers and support real educators, who put student needs into the equation. This country was once considered to have the best universities in the world. The Colleges of Education, whose focus is on the students, should be a part of that system.
I can only hope that somehow a true teaching profession will evolve from this lunacy.