They took all the trees
And put them in a tree museum
And they charged all the people
A dollar and a half to see 'em
Don't it always seem to go
That you don't know what you've got
'Till it's gone
They paved paradise
And they put up a parking lot
~Joni Mitchell, Big Yellow Taxi
If you've ever worried what the future will hold without public schools, watching legislators destroy those schools in Florida and Tennessee this past week was gloomy.
But there they were with smiles in Florida, and a little less jubilant in Tennessee.
These policymakers, who are supposed to represent everyone, seem to take no interest in the research surrounding the importance of democratic public schools and the lack of any evidence supporting vouchers or charter schools.
There's not even proof that private and parochial schools are great.
But before those of you who care about kids and public schools get too gloomy, there's always hope! One just needs to know where to look.
Wednesday, hope was found in South Carolina, another anti-union state, where 10,000 teachers marched for the second time to the state capital. One would think by listening to mainstream news that they were marching only for salary hikes. But according to The Post and Courier, South Carolina teachers had more on their minds.
The teachers, organized by the teacher advocacy group SC for Ed under the social media hashtag #AllOutMay1, have been asking the Republican-controlled state Legislature for higher wages, smaller classroom sizes, more mental health counselors in schools and full funding of the state's promises to students.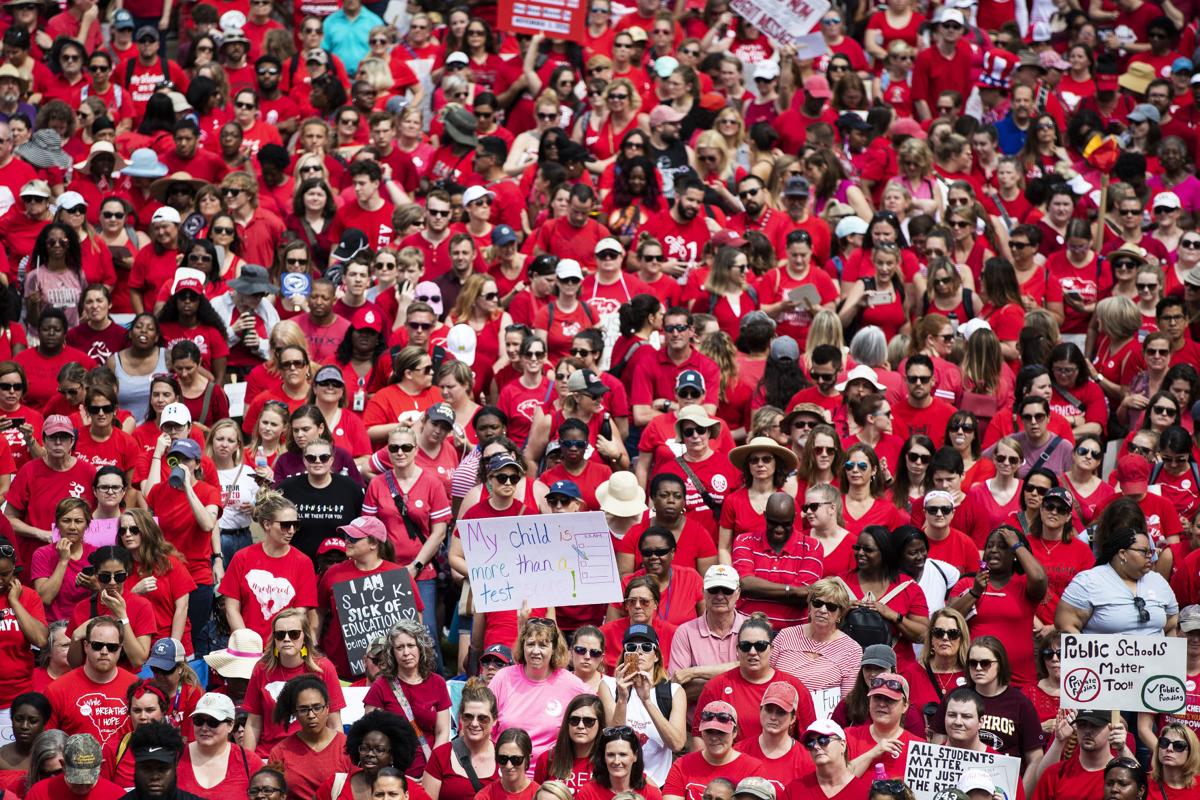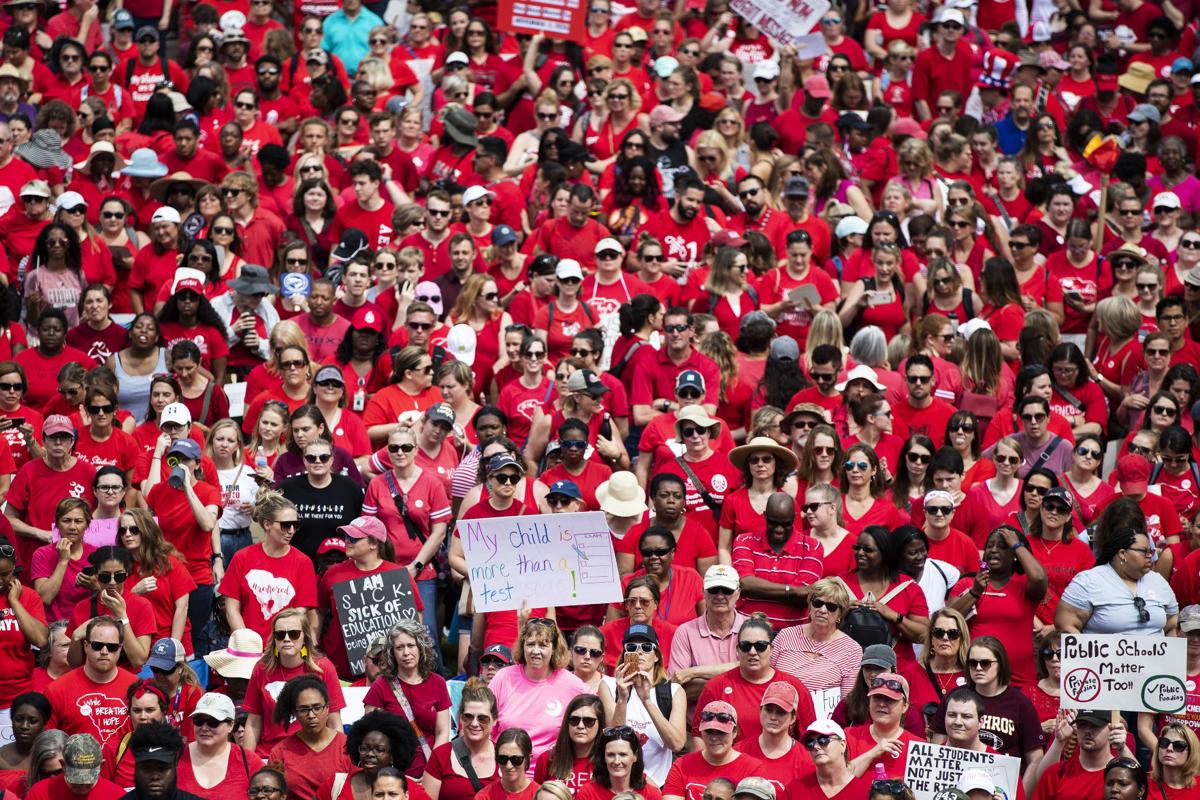 The picture is from The Post and Courier.
Many teachers are also finding that parents support them. Their united voices are critical at this time.
In the meantime, those who wish to privatize public education continue to push for choice initiatives.
They seem to give little thought to their unproven, backward agenda, how such a plan will divide the nation, or how it will affect children and families.
For years, they've:
ignored the majority since most people don't want vouchers.
failed to hold private, parochial, and charter schools accountable.
ignored the fact that vouchers cost taxpayers more money.
promoted "no excuses" for children living in poverty.
failed to champion good health care for all children.
tricked people into thinking vouchers will help poor children.
deceived Americans into expecting school choice when private, parochial, and charters make the choice.
defunded public education, unwilling to invest in all America's children.
removed developmentally appropriate activities like recess and play.
willfully pushed unproven charter schools knowing they often fail without oversight.
pushed harmful high-stakes testing on even our littlest learners.
insisted that children read as early as possible without considering development.
ignored real reforms like lowering class size, teacher training, and well-rounded curriculums.
failed to come up with ways to truly make our public schools safer.
opened the door to venture philanthropy, so the wealthy can create schools focused on profit-making.
destroyed teaching as a profession, replacing it with Teach for America types with minimal training.
focused on technology to disrupt classrooms and ultimately end public education.
eliminated school libraries and librarians.
continued to support substandard online programs like K12.
refused to pay career teachers fair wages.
sought to destroy teacher pensions.
replaced principals with outside career changers through New Leaders.
ignored Separation of Church and State.
dismissed the public ownership of democratic schools.
focused on unfair standardized testing.
replaced those with minimal training about how children learn into education leadership positions.
retained children in third grade a known variable in why students drop out later.
humiliated career teachers with unfair evaluations.
relied on the advice of those with little knowledge about children.
permitted school buildings to crumble.
ignored or destroyed learning opportunities for students with disabilities.
forced changes to the curriculum with the unproven Common Core State Standards.
made demands of children that are not commensurate with their development.
pushed children into early career decisions for corporate benefit.
destroyed public ownership of public schools.
These are sad days in Florida and Tennessee and for our country. It's scary to watch our so-called leaders selling out on what has always been our greater good, and to watch them do it with smiles on their faces.
But sooner or later Americans will recognize what a terrible mistake corporate school reform is, and they will look down on those who stole what was precious to them. They will demand a return to public education and free and great schools of equality for all children.
They will call for an end to the dumbing down of America.