We live in troubling times, reflected in the longtime attacks on one of our most sacred democratic institutions, public schools. But Americans have a fierce fighter for those schools in Diane Ravitch. The historian, in her new book Slaying Goliath, reminds us of the dangers facing schools, but also the hope we have in a resistance movement that has fired up across the country.
It is on this which we can rely, and there's no better way to learn how to be Davids then by reading the history of this resistance, how it came to be, and where it's headed.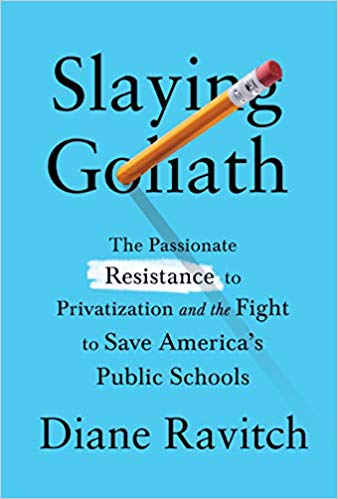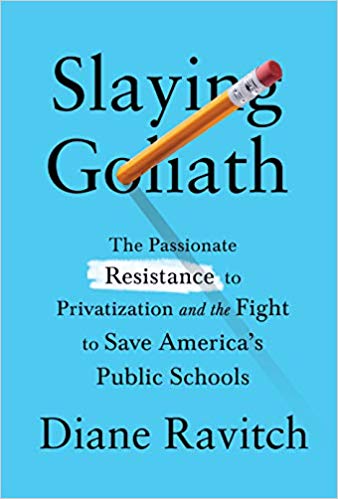 The resistance movement involves teachers, parents, and students from across the country, marching in the Red for Ed movement against the reforms that are damaging their schools. It includes bloggers and authors who passionately expose the troubling attacks on our public educational system.
Diane is a master weaver showing how this resistance is ever evolving. She names names and explains how billionaires steal local control of public education.
She calls those who seek to do harm to this institution, "disruptors," scoffing at their use of the words "status quo."
…they control the levers of power in federal and state governments. They write the laws and mandates. They control policy. They define the status quo. They own it (p.14).
They have owned it, we're told, for thirty years, since President Ronald Reagan decided to end public schooling.
When parents complain of crumbling school buildings or large class sizes, when the special education services they relied on are ended, they need only to look at the harmful policies of the disruptors.
Diane returns to the start of standardized testing movement, highlighting one of the most famous resistors, Vermont blogger Susan Ohanian. Susan became one of the first voices, and, I will add, listeners, to teachers and parents on her blog. This was before blogs were popular.
She points to researchers David C. Berliner and Bruce J. Biddle and their signature book The Manufactured Crisis: Myths, Frauds, and the Attack on America's Public Schools: The Real Crisis in Education and Richard Rothstein's The Way We Were?: The Myths and Realties of America's Student Achievement. These and other signature books warned about the problematic signs of disruption to our public schools. They remain a relevant part of history today.
In Slaying Goliath we are taken back to the original Save Our Schools movement and shown how the spark was lit to form new groups like the Network for Public Education and the Badass Teachers Association.
Diane remembers United Opt Out founders Peggy Robertson, Tim Slekar, Morna McDermott, Shaun Johnson, Ceresta Smith, and Laurie Murphy. UOO spared many children from the humiliation of taking high-stakes tests designed to fail teachers, schools, and the students! These education leaders stood up to the oligarchs who foisted strident policy against children and their teachers, into their classrooms. Even though this movement has been, and continues to be, waylaid by nonstop assessment in competency-based education, it has sparked a nation of parents and educators who are better-informed and committed to saving their public schools.
Diane salutes the premiere bloggers who continue to move the equation against the disruptors.
We learn about dark money and failed reforms like Common Core. There's much, much more.
The message I took away from this book is that in order to press on, we need to better understand where we've been, at what point we stand in history, and how we can, as Davids and good Americans, stand on the right side of future history for a public education system that serves children, not corporations. Our public schools must be great with opened doors for everyone.
The book will be out Monday and deserves a special place on everyone's bookshelf.
Many thanks to Diane Ravitch.
Slaying Goliath: The Passionate Resistance to Privatization and the Fight to Save America's Public Schools by Diane Ravitch, Hardcover | $27.95 Published by Knopf Jan 21, 2020 | 352 Pages | 6-1/4 x 9-1/4 | ISBN 9780525655374