When I read in The New York Times about Matthew Levey, a Columbia alum and former McKinsey consultant, who is setting up the International Charter School of New York, I was stunned! The school is starting out with 70 kindergartners and first graders and will eventually go up to fifth grade.
Mr. Levey starting a school doesn't stun me. MBAs, with no teaching or education credentials, starting up schools is trendy. While my college prepared, fully credentialed teacher friends in their public school classrooms are evaluated with gotcha exams to push them out of their careers, if you are a business person it's an open field.
Our tax dollars are yours no matter who you are and what you teach!
Mr. Levy has plans for these little children. He cares about teaching them: how Francis Bacon developed the scientific method, why Aristotle matters and what led to the decline of the Roman Empire. That's what stuns me.
How many five year olds do you know who have been yearning to find out about Aristotle? And do you really want your little kid learning about the fall of a civilization?
What are the other things they could be learning at this important developmental period in their lives?
I don't want to discourage a child's quest for great thoughts, and maybe some kindergartners would rather cozy up to the philosophers, but when you force students to study Aristotle, when they don't want to, they are missing out on what they really would like to learn about.
I'm thinking The Berenstain Bears perhaps. What great thoughts go there! Brother Bear and Sister Bear learning life's lessons might seem more philosophy friendly than a man in a white robe.
Of course, if Aristotle and Bacon, and the fall of a civilization, give these children nightmares, or it doesn't grab them, and I'm guessing it won't, Mr. Levy wants rich and poor, black, brown, Asian and white (good diversity anyway) learning about Charles Darwin in kindergarten, the Han dynasty astronomer Zhang Heng in second grade and sub-Saharan Africa in third. His math curriculum, known as Jump Math, was developed by a Canadian mathematician-playwright, John Mighton.
Give me a minute to look up Zhang Heng!
I myself took a philosophy class in high school where I learned about Aristotle. I was a senior. I loved the class and the teacher who talked about applying philosophy to everyday life.
Thank goodness, however, that no one tried to teach me about Aristotle when I was in kindergarten! I would have hated school.
Quite frankly, I would have detested anything that took me away from the play kitchen and my new little friends, or running off to build with big wooden blocks. I would have missed nap time too. Yes. We still did those things in kindergarten!
And recess! Even though it was a half day, we had plenty of outside play—even in the winter!
The picture above, by the way, is Plato, not Aristotle. I didn't want you philosophers to think I didn't know that.
Plato taught Aristotle, and surely he didn't teach philosophy in kindergarten, because this is what Aristotle learned.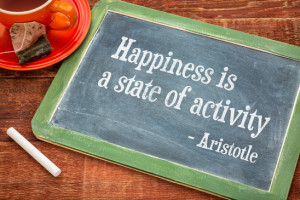 I am assuming Aristotle had a lot of play in kindergarten.
There will be parents who buy into this push to teach students information before they are ready—who think this is the way to create a genius.
I am sorry for what their children will miss which is the children's right to be—children—and do the things that children do.
In other words, it doesn't make sense to teach kindergartners Aristotle. Try Seuss instead. Or read life's best philosophical lessons from my favorite bear family, the Berenstains. Let children be their age. Don't make them miss out on childhood.