How do politicians eliminate a school orchestra in this country and still sleep at night? How does a community adjust to such a theft when they tried so hard to keep the music playing?
The Loss of the Lafayette Elementary School String Orchestra
In 2013, Mayor Rahm Emanuel and Chicago politicians put an end to the popular Lafayette Elementary School String Orchestra. Little thought seemed to be given about the orchestra they shut down along with the school. Lafayette also had a respected program for students with autism.
Former Chicago Public School's CEO Barbara Byrd-Bennett stated:
As we end this school year, it is time for us as a city to begin the work of creating a deep and lasting change in our schools to ensure a better life for our children, a better Chicago workforce and a better future for our city. Everyone has a shared responsibility to ensure students have a safe and smooth transition to their new school in the fall and are on a path to a bright future. We owe them our very best.
A better life with no music? Who was she kidding? Not the community which came together to protest with a school sit-in.
Lafayette is in the Humboldt Park neighborhood. Ninety percent of the children there come from poverty. Gangs have been a problem.
So why shut down a school and a music program that works? Why would city leaders demolish joy in a neighborhood?
A video of the Lafayette students playing beautiful music was brought to my attention today. I especially noticed the violinist at the beginning.
How Music Gets Passed Down Through Generations     
I recently came across my dad's violin. As a child, I remember when he'd surprise us, take the instrument out and play. My favorite was the Flight of the Bumble Bee. Probably he made mistakes, but I never noticed.
He played in the public school orchestra in Gary, Indiana. He did well. I found this picture. It's a bit blurry but he is in the middle with the arrow. He has a big smile on his face.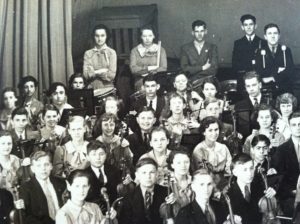 Emerson Orchestra 1936
My dad and his family lived through the Great Depression. Yet, they still had music in the public school. Even during such a dark time in our country's history, America kept the music alive.
He spoke once about when he first got that violin and how thrilled he was when my grandparents took him to see violinist Fritz Kreisler at Orchestra Hall in Chicago.
My dad steered me into music. He didn't care what instrument I played. I chose the flute.
Why Do Schools Shut Down their Music Programs?
So, how does Chicago get rid of a school orchestra? How does a country as great as America deny its children music? How will those children face the future without playing music? What kind of music will they pass down to their children?
It is not that we are a poor country and cannot afford it. That's a bogus excuse when it comes to schools. Politicians in this country find money for what they want.
They found $4 to $6 trillion for the Iraq, Afghan wars—wars that half the country rejected. That's supposed to include medical care for those who were injured. Music doesn't hurt anyone.
This country also spent $700 billion in tax dollars to bail out the banks after the financial crisis.
So eliminating music programs for children isn't about money. It's about privatizing public schools. It is about making public schools so terrible that people will flee to charter schools. Chicago has steered their dollars into charter schools.
Chicago is not alone. I bet most who read this know of schools that have lost marching bands and orchestras. Many of us can name dozens of public schools that have been sacrificed for privatization.
The Social Impact of Losing Music
Removing music from our public schools does more than steal music. It takes away a place for children to get to know one another. Music is important for socialization.
When my daughter chose to play the French horn in her middle school band, I was delighted to see an orchestra made up of students from many ethnic and cultural backgrounds.
Music is also important for preparing students for future jobs in the music industry. Stealing music instruction from a student could possibly steal their future employment—their passion.
After Lafayette was closed, along with many other public schools, a Truthout report described a changed Chicago. Rosemary Vega, whose children attended Lafayette, said the decision to close Lafayette was devastating.
"It was like receiving news that a family member has passed," she says. Vega herself graduated from Lafayette, as did her father. "Removing Lafayette displaces our communities. It's like yanking someone from their roots [and] erasing their memories." 
Her 8-year-old son has had trouble adjusting to his new school, Vega says, and his grades have dropped. Her 12-year-old daughter is doing better, but said she still misses Lafayette's string orchestra program—prior to the closings, the only CPS children's string orchestra in Chicago.  
Music should be a part of every child's schooling. Schools should continue to help make music a family tradition.