The charter movement has since expanded to include 43 states plus the District of Columbia, and over 2.5 million students—or about 5 percent of the total K-12 public student population.  Arianna Prothers, Education Week June 4, 2016
Charter schools are 25 years old. My, how time flies.
Yesterday, Education Week printed an interview with Ember Reichgott Junge, the Democratic state senator who sponsored the charter school legislation first signed into law in Minnesota.
School reformers have always sold charter schools as exciting and groundbreaking schools, but, as most know, and as you can see from Reichgott Junge's interview, charter schools, in general, never lived up to the hype.
Charter School Corruption
First, Reichgott Junge speaks a lot about how charter schools continue to need autonomy.
But if you search Google for "charter school corruption," and any state with approved charter schools, you will find a lot of problems with autonomy.
That's not to say there aren't some decent charter schools. But the sad reality is that many individuals have used charter schools to bilk the country of tax dollars that were meant for real public schools. And we have seen little accountability.
How much money has been lost to corrupt charter operators? I'm not sure. One 2014 study by Integrity in Education found $100 million in tax dollars was wasted in just 15 states.
Charter Schools Lack Innovation  
What everyone also knows is that, after 25 years, most charter schools have not turned out to be the laboratories of invention we were promised.
Most charters get tough on children and don't teach those who have the largest number of difficulties. But that's truly not innovation.
Even Reichgott Junge admits there is little innovation. Charter schools run much like traditional public schools. Almost everyone agrees that charter schools have not been the innovative schools they were supposed to be.
Teachers, who used to hear how charter schools would be schools that would fix what they couldn't, can't say that enough. Charter schools have done nothing innovative.
So why celebrate 25 years of mostly charter school failure?
Today's Charter School Birthday Cake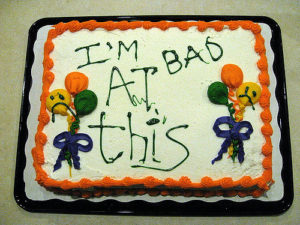 Entrepreneurs—Not Educators
Reichgott Junge makes some excuses and claims sometimes charters don't get the federal funding they need to let trained entrepreneurial leaders be innovative.
Note. Entrepreneurs is a business-like word.
The business sense in me says that is one of the problems of charter schools.
Why Have Charter Schools?
Also, the fact that in 25 years if charter schools haven't been innovative or given public schools anything new to think about, isn't it time to turn off the funding spigot?
If so-called entrepreneurs want to start a school—let them start a private school and invest their own money or the money of the venture philanthropists.
Instead, Reichgott Junge ponders whether it would be better to make charter operators present something unique, a detailed plan, before the charter was approved.
But wasn't that the original plan in regard to charter schools?
Reichgott Junge seems to understand the detailed plan part. But her timing is both late and troubling.
She claims future innovation should mean charter schools and traditional public schools work together. This raises the question, why have charter schools at all?
Personalized Learning—The Future for ALL Schools!
But here is what she sees as the future. Reichgott Junge says I'm looking more towards the innovation of personalized learning, of project-based learning, of what I call the 21st century learning.
And she emphasizes charters and traditional schools should work together on future innovation.
I think she is implying ALL schools need to do online personalized instruction.
What a jump! From 25 years of nothing unique to a future of more unproven experimentation! How much longer will it take the American people to demand their tax dollars be spent on quality public schooling instead of unproven tripe?
No celebration here.
Reference
Prothero, Arianna. "At 25th Anniversary Mark, Author of First charter School Law Reflects on Movement." Education Week. June 3, 2016.