It requires an educational program reasonably calculated to enable a child to make progress appropriate in light of the child's circumstances.
Chief Justice John G. Roberts Jr.
In light of the current administration's push for school choice in the form of vouchers and charter schools, and the selection of Betsy DeVos to be education secretary, there is concern about the future of public schools and the Individuals with Disabilities Education Act (IDEA). How will students who require different learning approaches fit in a world of school privatization?
The Endrew F. v. Douglas County School District ruling gives us hope that students with disabilities must be challenged in their educational program, but it also left many unanswered questions. One I will focus on today.
Why did the National Alliance for Public Charter Schools (NAPCS) and the National Center for Special Education in Charter Schools (NCSECS) file an amicus brief for Endrew F. v. Douglas County School District? Such legal documents are filed by non-litigants with compelling interest in the case. The briefs advise the court. They provide information or arguments the court might want to consider.
Why did they appear giddy after the decision? Here is a tweet from the NCSECS after the ruling was announced: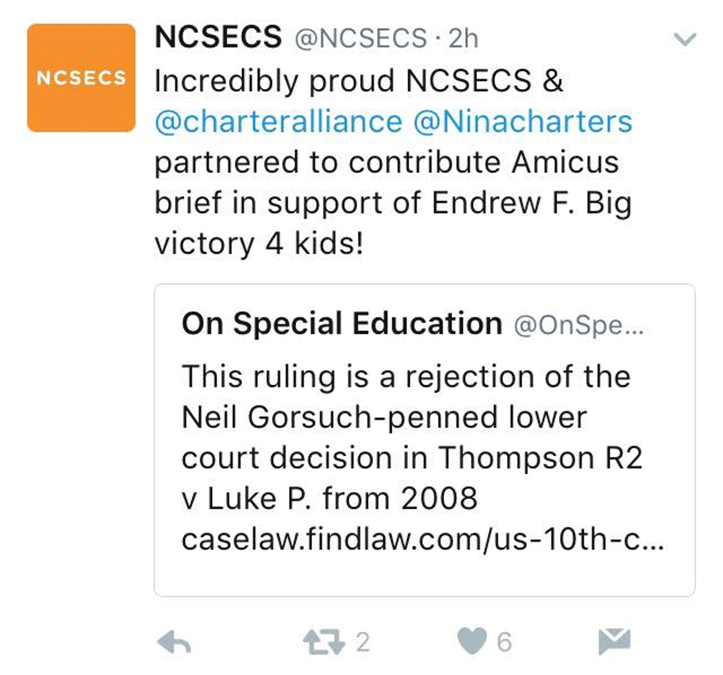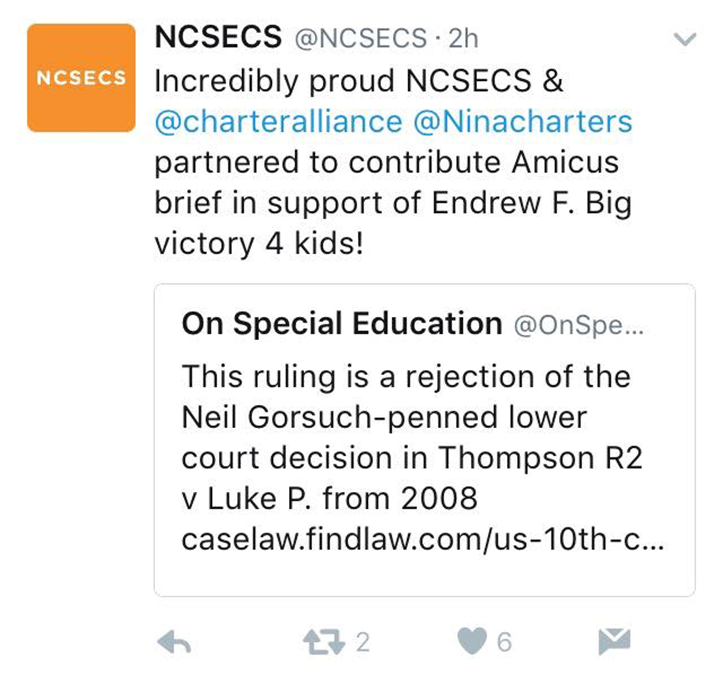 They say in the brief that they are developing "model charter school legislation" and influencing statutes and regulations in many states. They claim to support research, publications, and advocacy to further the charter school movement. Note-that they said "further the charter school movement"—not children.
Amici submit this brief because we find adoption of a higher standard is the most consistent with the charter school movement's emphasis on high expectations for all students and its commitment to serving students with disabilities enrolled in charter schools NCSECS and NAPCS Amici also believe the experience of charter schools, reflected in research sheds light on the issue before the court.
And they claim that in charters this is what you will find:
Core Knowledge,
Montessori,
Direct Instruction,
Expeditionary Learning,
Multiple Intelligences approaches.
They don't mention special education teachers. They do emphasize that charters will serve students with mild to moderate disabilities and they promote unique schools.
It is troubling that charter school organizations, known for their lack of services to students with disabilities in the past, are advertising that they should now be seen as a "robust" alternative to public schools. They have not shown proof they are capable of working with students with disabilities—quite the contrary.
After Katrina, when New Orleans was converted to primarily a charter school system, students in need of special education were denied services or mistreated in those schools. The Southern Poverty Law Center sued and the case was closed in 2014, but as of 2016, students in New Orleans are still not getting needed services. Charter schools across the country do not do special education well.
Charter schools are usually not set up to serve children with disabilities. Traditional public schools include an IEP meeting with a variety of professionals who meet with parents to identify student needs and help determine the kind of program that will benefit students. This could consist of a school psychologist, counselor, special education teacher/s, general teacher/s, district staffing specialist,  district special education coordinator, social worker and others. Charters are not set up for this kind of screening and professional involvement.
The good news about Endrew F. v. Douglas County is that it acknowledges that education for students with disabilities should be challenging, but it doesn't change the precedent of past case law on special education. I think, translated, it redirects attention to the Individual Education Plan and parental rights within public schools.
Chief Justice Roberts said "for children with disabilities, receiving instruction that aims so low would be tantamount to 'sitting idly … awaiting the time when they were old enough to drop out." He quoted from a 1982 Supreme Court precedent on special education, Board of Education of the Hendrick Hudson Central School District v. Rowley.
Special education advocates and all eight of the Supreme Court justices were rightly troubled by Judge Gorsuch's past comment on this case that the instruction of students with disabilities be "merely more than de minimus." Most teachers and those in public schools would argue they don't look at students with disabilities thinking they will give them a "trivial" education.
What we don't know is whether special education will be funded better with the decision. Funding was a problem in Douglas County and there seemed to be a decline in services when the court case came about.
Why not work to improve traditional public schools and address the needs of students with disabilities more positively with a variety of services and better funding? It is worrisome to hear about funding cuts to public schools and increased funding to choice (private and charters) under President Trump and Betsy DeVos.
Will charters and private schools push the choice card more aggressively by promising special education services they won't provide well? Will we see more cuts to special education programs in traditional public schools where IDEA rules?
This country needs to get behind students who learn differently and require something better than "one size fits all." The best way to do this is to strengthen real public schools by fulfilling the original promise of IDEA, and work closer with parents and students to accommodate student needs.