There can be no keener revelation of a society's soul than the way in which it treats its children.
~Nelson Mandela, Former President of South Africa
Fathers who are protectors of children. Today is your day.
Today, I am thinking about fathers who help their sons and daughters in school, and fathers who flee a country, trying to protect their children from danger.

Fathers Helping Their Children in School
Years ago, I arrived at school to find a dad waiting for me at my classroom door. His child was new to middle school. All seemed to be going well. I wondered what was wrong.
I still remember the passion he exhibited about his child's reading difficulties.
"There was little phonics in elementary school," he told me. "I would appreciate if you would do more phonics. I know my child cannot understand the sounds, and this makes reading difficult."
This understanding of his child's reading difficulties was valuable to me as a teacher. After that meeting I looked at my student, and other students, differently. I understood that they'd had less phonics than I'd originally thought. It changed some of my practices as a teacher.
Dads with passion about their kids schooling are a valuable resource. For the most part, it's been the moms who show up for school volunteering and PTA fundraisers. Moms come to meetings, and they still bake the cupcakes.
But times have evolved, and more dads participate in their child's life, taking part in school events and education concerns.
Dads volunteer. They use their particular skills to help make the school environment better.
Dads who are teachers and parents, blog about critical issues surrounding school reform, and how children should learn. Their voices are especially critical in a profession that has been dominated by women.
Dads don't have to be geniuses. And even when they can't find the time to help at school, like moms sometimes can't find time to help at schools, they can impact their child's learning by encouragement, and, like the father I mentioned before, supporting their children when they have learning difficulties.
There's incredible pressure in schools today. Dads can help their children pinpoint their strengths and interests. Children know when Dad has their back. They know when Dad tries to help, and that they're cared for.
Sons and daughters learn how to socialize by watching dads—how to treat others with respect and dignity.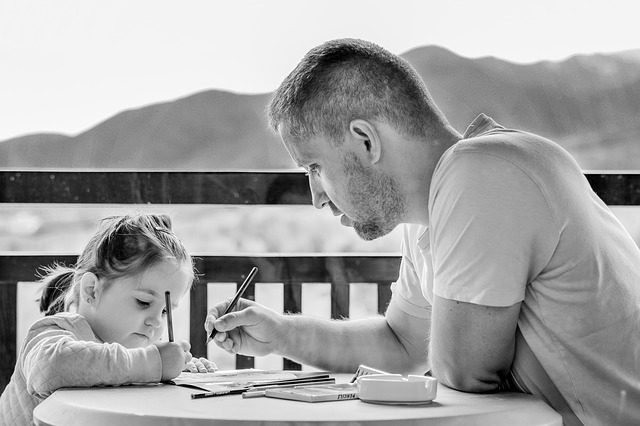 Dads who support their daughters—who watch how they are treated in school are especially needed at this time. They watch for the wrong kinds of messages their daughters get in math and science classes. They talk to teachers when they observe something amiss.
Dads help their girls and boys observe nature and the world around them. They visit zoos and parks and science centers, learning together.
Easygoing and silly Dads are especially needed at this time. Dads who enjoy ice cream get an A grade!
Dads who help children understand life, love, and how to be tolerant of others, make a world of harmony.
Men are different than women, but they should never have been put on the sideline when it comes to how their sons and daughters learn in school.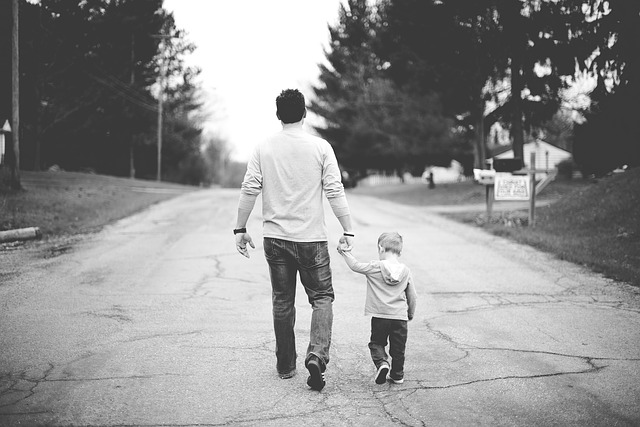 Parents Fleeing to America
And they were bringing children to him that he might touch them, and the disciples rebuked them. But when Jesus saw it, he was indignant and said to them, "Let the children come to me; do not hinder them, for to such belongs the kingdom of God. Truly, I say to you, whoever does not receive the kingdom of God like a child shall not enter it." And he took them in his arms and blessed them, laying his hands on them.
~Mark 10:13-16
Then there are the dads who are trying to save their children's lives.

America should not be the enemy! We are supposed to be the great protector! Many of us wonder how what's happening at the border can be permitted.
Some 2,000 children have been separated from their parents as they seek asylum. Many families are fleeing Central America due to violence. They are trying to protect their children, only to have their kids separated from them and put in detention facilities.
How must those parents feel? How must the fathers feel?
On this Father's day, let's hope politicians, including President Trump, recognize how immoral these actions are, and that they think of real solutions to fix this situation instead of destroying families, especially the children.
Americans need to find ways assist those who are struggling to survive. We should not be punishing those who are frightened!
This New York Times report provides places to voice your concerns.
Thank you to all you dads who participate in their child's life.
And for those fathers who are bewildered after fleeing to this country, I hope you are treated better and that you get to reunite with your children soon.