It sounds like there's a shortage of ideas to work with students with or without disabilities, especially students who don't work well online, or need a break from it. So, I am starting this page and will add to it, if there's interest, in days to come.
I welcome teachers and parents to add whatever they'd like to share, what works for you, or special resource pages or links.
Note: I am adding some valuable information that should be helpful to you if you are working on handwriting with your students.
I would like to thank Martha Bridge Denckla, Professor Emerita, Neurology, Johns Hopkins University School of Medicine. Martha contacted me to offer some valuable pointers on handwriting and is the author of the following book: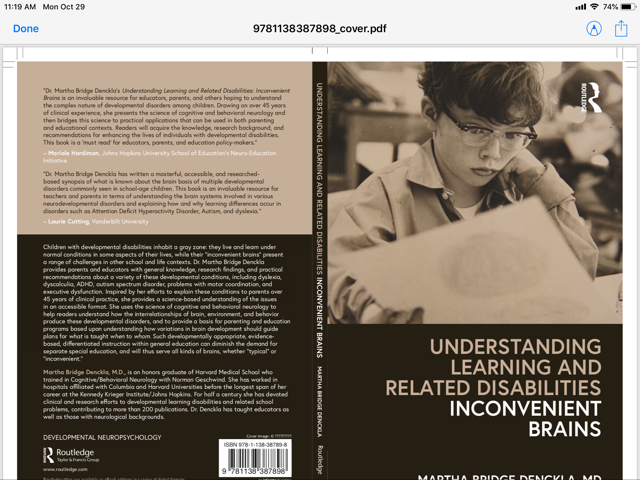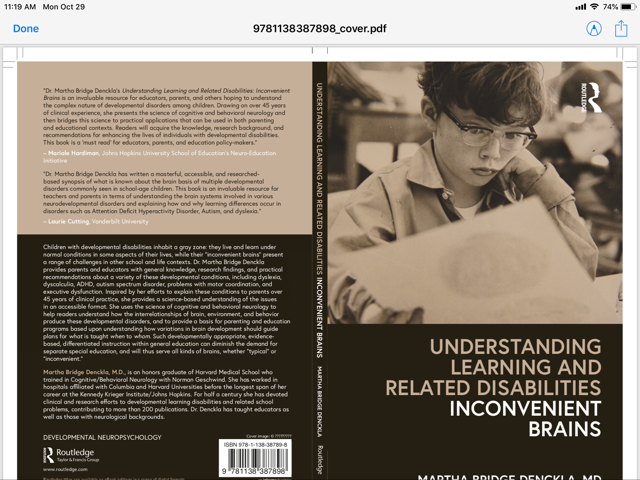 She says:
I wish to add my expertise on the pencil grasp issue. See my book chapter on motor development for details.
The main point is that immature connections underlie "incorrect" pencil grasp in young children more often than "don't know how" and until myelination allows proper distal finger control won't work for PRINTING. Hand movements can work for CURSIVE, which is one more reason we should offer cursive to Kg or first graders with "poor pencil grasp."
This advice applies to all children because ages and developmental levels, not just disability states, influence handwriting.
She adds:
Being one of the vanishing group of people called "moderates," this is the balance I advocate. Yes, teach cursive early (I love Jan Olson's Handwriting without Tears") on wide ruled paper, but also teach printing in what I call "Dr. Denckla's Write Big program"( I could get private schools to do this when recommended from my small once a week clinic).
Write Big means a vertical surface with some writing implement that allows the arm to control the movements of letter formation. This assuages our teacher and parent anxiety lest we lose the kinesthetic reinforcement afforded by printing letters that are closer than cursive to the "look" of what is printed in books; but then we watch the child carefully for development of a proper distal finger control seen( perhaps in art class) and follow the lead of the child's observed development to progress to sitting down and using a paper and pencil printing method( still with appropriately wide ruled paper, of course.)
What we already know empirically is that the brain's visual cortex is fantastic at scaling from big to small; we already provide gradually more closely spaced ruled writing paper as children grow from Kg to 12, recalling that in the era before everyone was "writing" on computer, we had "college ruled" notebooks and loose leaf paper!
So I would simultaneously do a bit of cursive and do write big (I shouldn't capitalize the words, it isn't copyrighted or formal in any way, it's just my clinical extrapolation from research) for printing each day. The immature child is not "excused" or left out of the daily printing instruction, just does it on a vertical surface, using the arm, while standing up! (The standing may make him or her, more often "him," the envy of several others.)
Handwriting
Teachers don't always focus on handwriting because of other skills they are made to address. The focus on technology has sometimes pushed handwriting out of the picture. So, helping students, especially students with reading or writing (dysgraphia) disabilities, become better at handwriting at home, might be a beneficial exercise at this time.
Teachers struggle to understand what students mean when they turn in sloppy papers. Even if students misspell words, it's much easier to see the breakdown of their errors and help them correct their papers, when letters are neatly printed or written in cursive.
***Don't push a child to write if they have difficulty holding a pencil or if they are too young.
Holding a pencil. 
This may seem strange, but many students don't know how to hold a pencil! My husband teaches college students and remarks about the many strange ways he has observed students holding pencils and pens in a cramped and uncomfortable manner.
The pencil should be held between the thumb and middle finger with the index finger riding the pencil. The pencil should be grasped above the sharpened point. Pencil grippers are helpful, or some tape or a rubber band wrapped around the pencil can help with gripping.
Younger children work better with larger pencils.
Here's a great Wiki explanation.  
Here's a quick trick called pinch and flip.
Paper positioning.
Paper isn't usually slanted for printing. Tilt writing paper at an angle about 60 degrees from vertical, to the left for right-handed children, and the right, for left-handed children (Lerner, p. 192-193). Children should hold paper with their free hand. Hold paper in place with tape if necessary.
Cursive Handwriting
Schools don't always teach cursive, but  it could be helpful for children, but especially for children with dyslexia or reading disabilities. Some children might find copying cursive letters relaxing. Practicing can be quieting and give parents a needed break.
It has been known for years that cursive might be easier than print for children with learning disabilities because of the rhythmic continuity. It helps students who make reversals, which are common for students who print. (Lerner, p. 190).
Start with capitals and move to small letters and then connect letters to words. Give the child some sample letters to copy. Once they master some letters, add short words.
Tracing paper or plastic overlay can help children practice writing.
Copying partial letters for children to complete can help children copy.
Printing
If a child is better at printing, and they don't like cursive, or it's too difficult, help them practice spacing and making neat letters.
Practice
Look for ways to work with children on handwriting at home. Encourage them to use what they learn every day. If they are unable to use handwriting, the computer keyboard is acceptable.
Studies by Gene Ouellette, an associate professor of psychology at Mount Allison University, and Monique Sénéchal, a psychology professor at Carleton University, found that invented spelling is important for reading. They call it the "missing piece." With writing practice spelling slowly improves.
Encourage children to write for fifteen or twenty minutes every day. Don't judge.
If a child is too young for writing, let them dictate a story.
Make available old magazines, colored pencils, markers, so students can illustrate their stories.
Help them with topics if they ask.
Choose a writing piece they're proud of, correct it. Let them rewrite the piece correctly knowing how proud you are of their work. Show it off. Make a book!
Handwriting works on fine motor skills, visual-motor coordination, visual memory, spatial relationship, focusing, reading, spelling, self-confidence and, of course, writing letters and words. Helping children with or without disabilities improve their handwriting is a worthy goal during this difficult time. It will help when they return to school and forever.
Project Ideas
From teacher pro Pamela Michaels:
My comment has to do with Art activities that could reinforce learning how to make and remember letters. So, here are 4 easy ideas that most children would understand; they could work as integrated Arts lessons. Basic ideas behind these:
Having fun with the letters – no right or wrong!
Reinforcement of recognizing and creating basic shapes
Attaching meaning
Practice with hand-eye coordination, fine motor skills
Using imagination
Those are the basics – some pragmatic uses of decorative lettering could be making small signs, nameplates, posters, writing short poems and decorating them.
These are a Primary version of Illuminated text. For older students one could show examples of some of the historic versions, or show how Fonts evolved, and have the students create their own fonts.
Years ago, another Teacher and I team-taught a class called Art and Language to High School Students with Learning Disabilities, and by the time we got them, they absolutely hated anything to do with Reading and Writing. Our intent was to help them see other ways of considering those skills. Teachers can adapt them and come up with their own variations.
Examples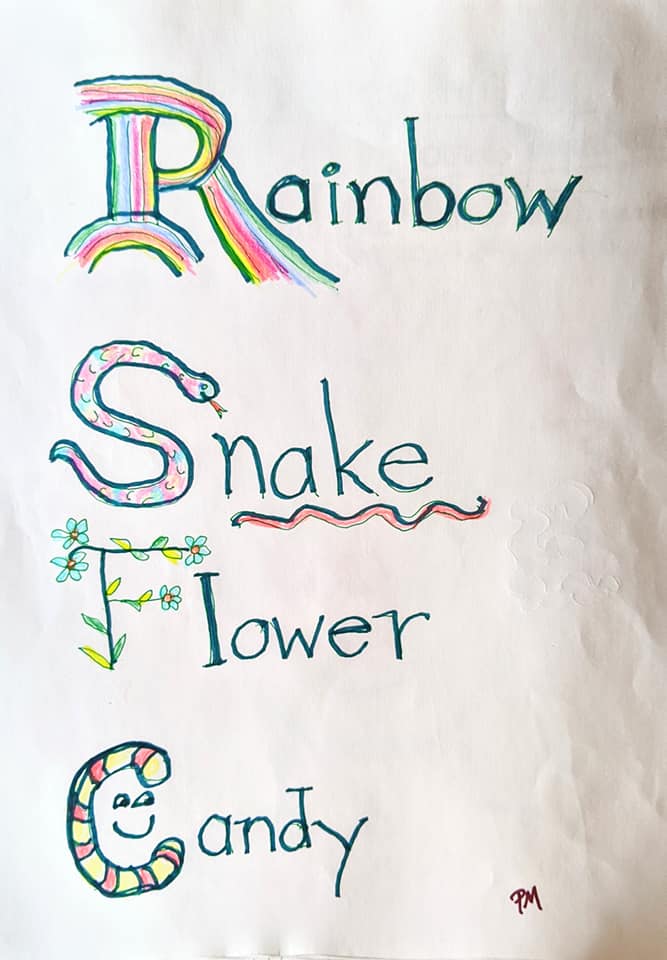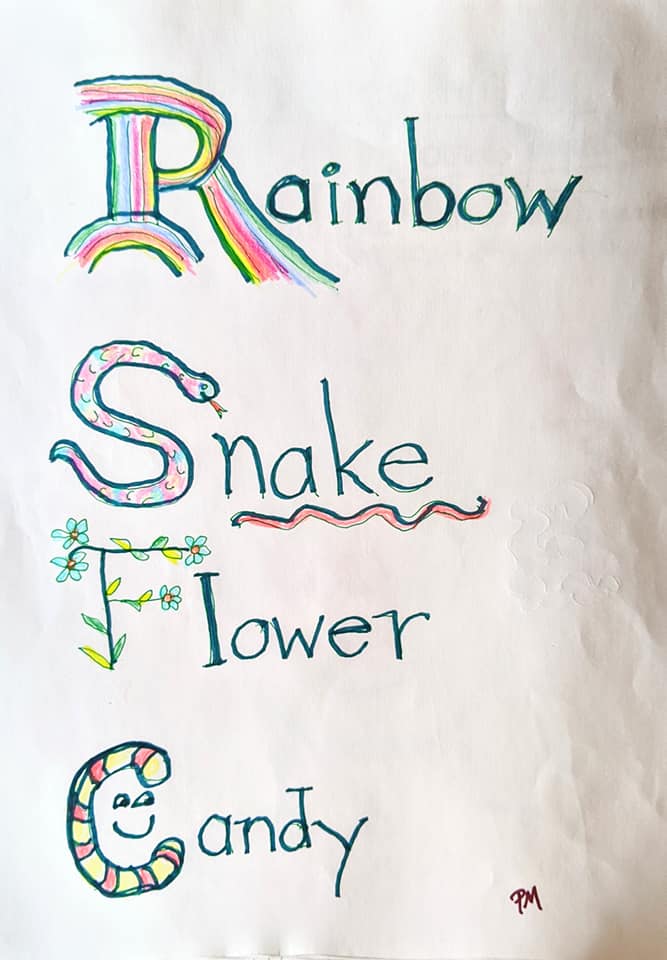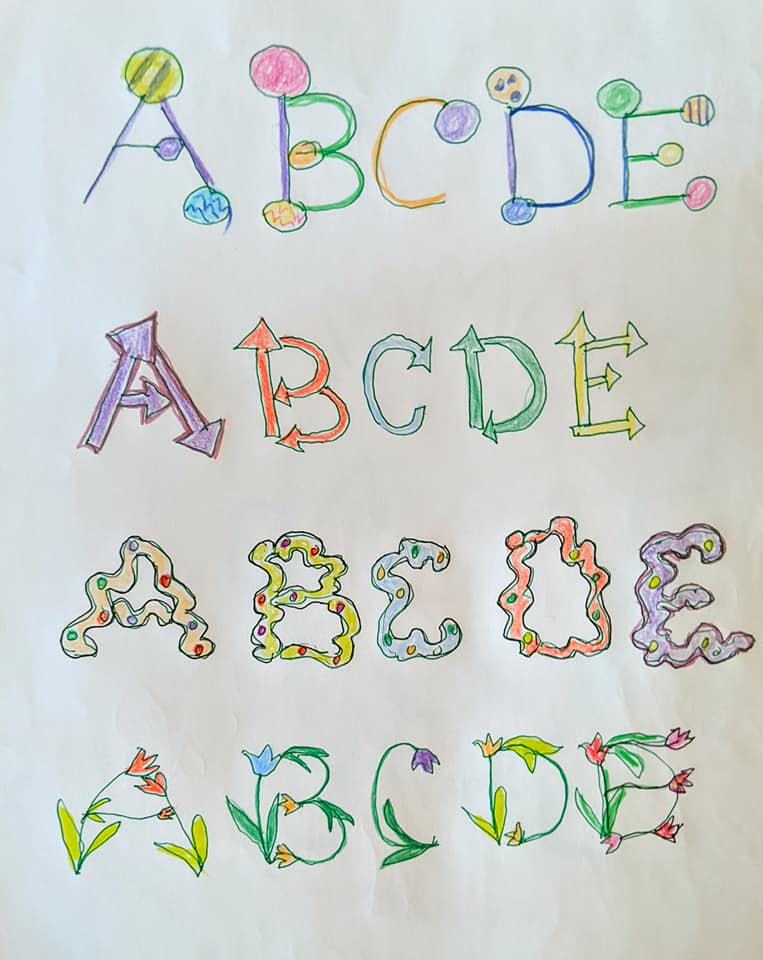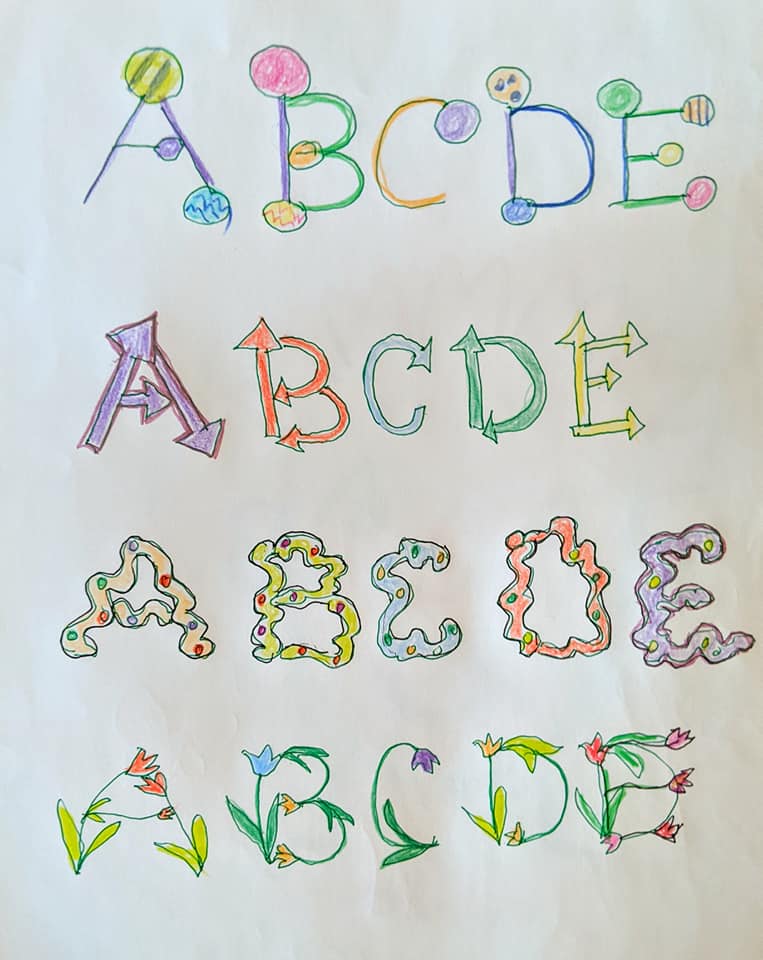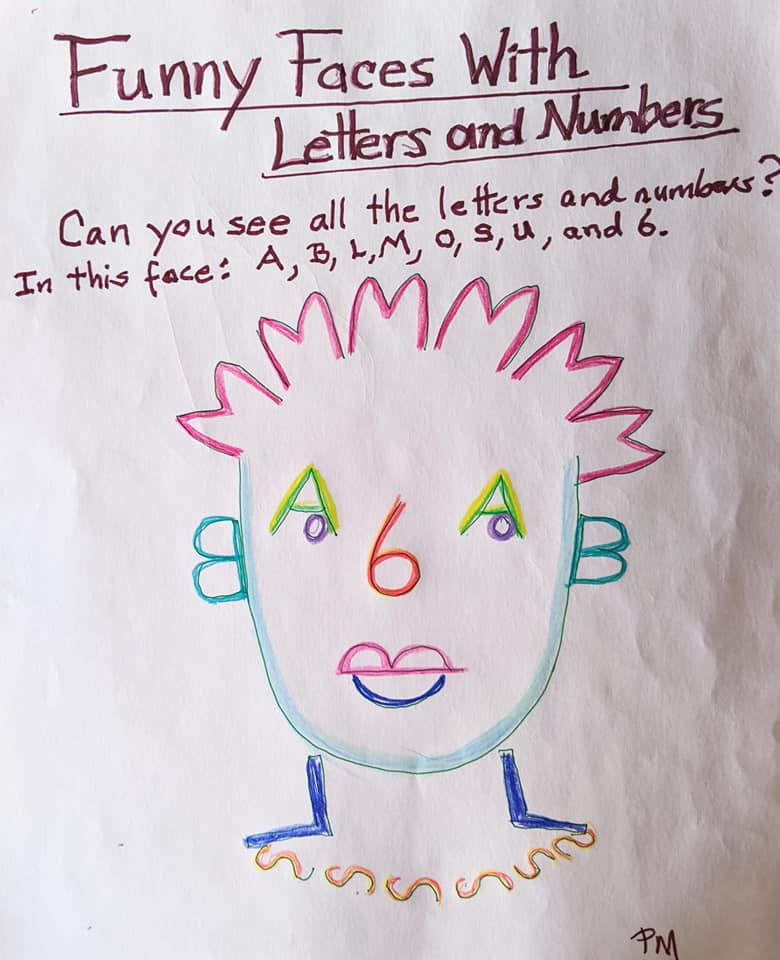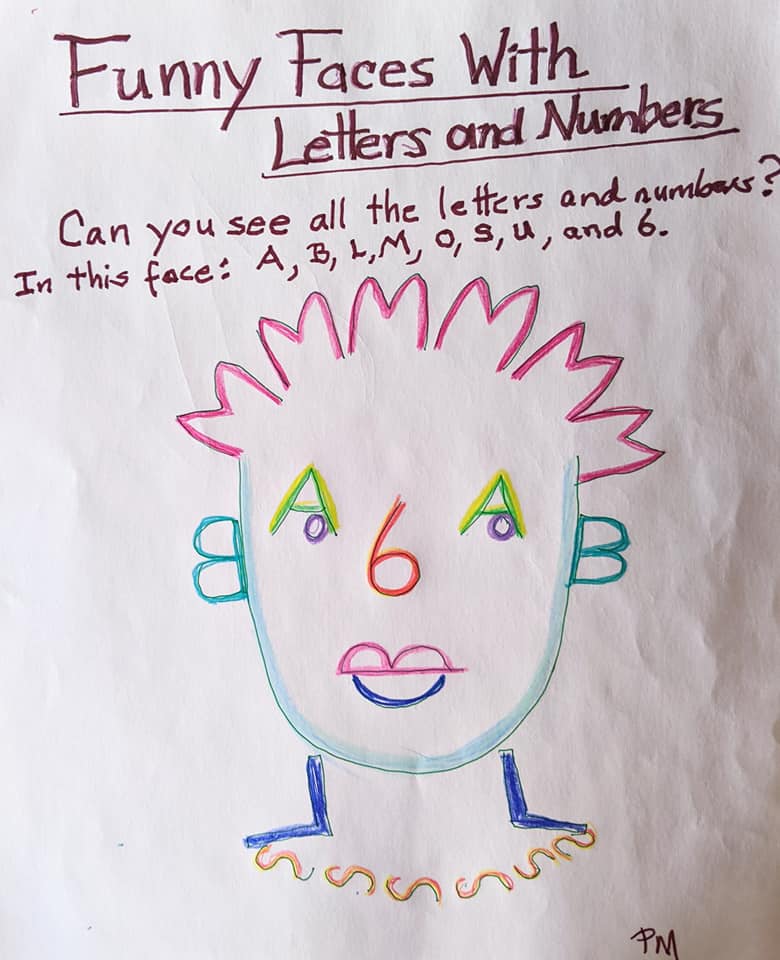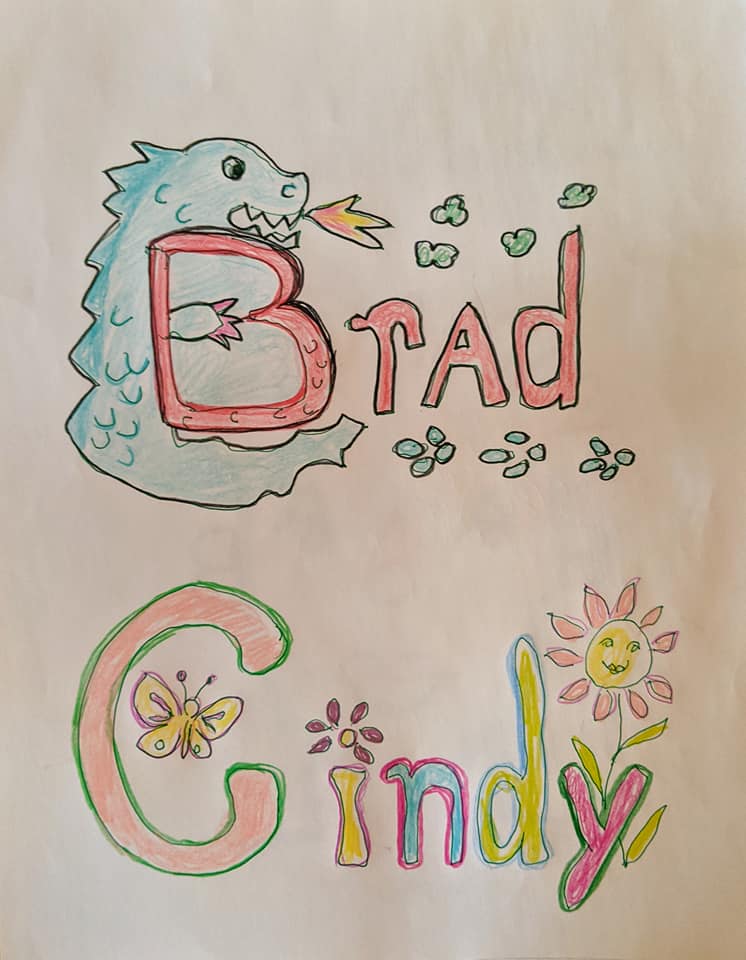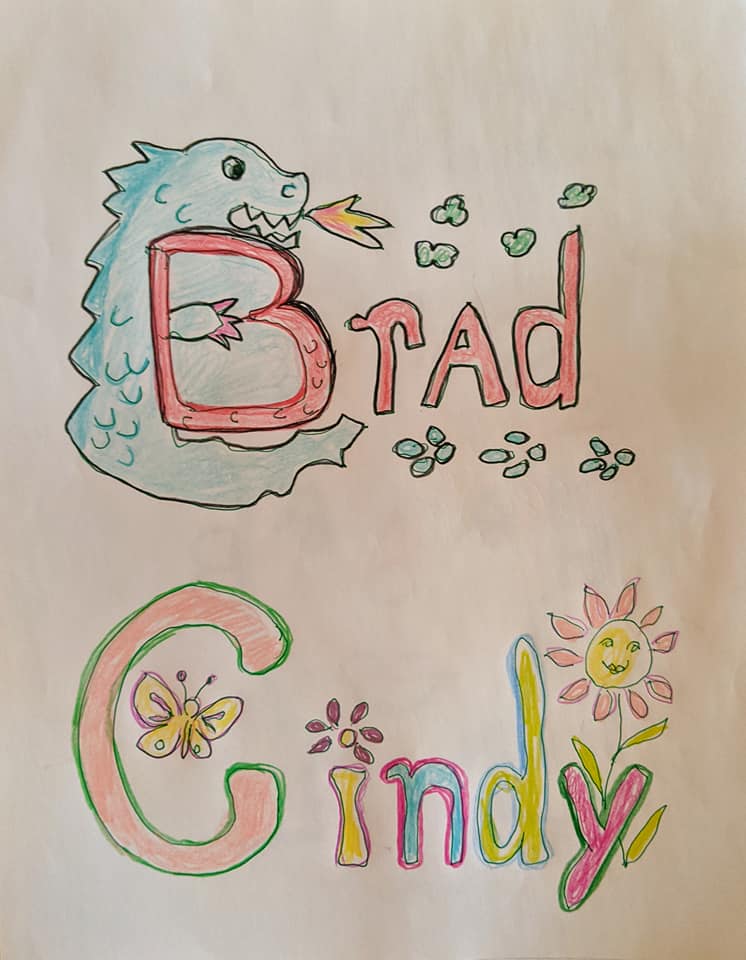 Reference
Lerner, J.W. (1971). Children with Learning Disabilities: Theories, Diagnosis, and Teaching Strategies. Boston: Houghton Mifflin Company.