Like many, I hate war. I don't understand why we haven't evolved to a better civilization after all this time. As an educator, I am saddened especially by all the young lives that have been lost throughout the years.
Whether you agree with the circumstances surrounding a war, or not, the sacrifices soldiers make should be a reason for all of us to do the best we can, in our own special ways, to make this country and the world a better place for everyone. It takes honesty and integrity, and courage. Our efforts should remember them.
Today I would like to honor all veterans by acknowledging the bravery and the life of the first soldier from Memphis who died in Iraq. I was against that war. It still makes me angry. But I honor Staff Sgt. Morgan Deshawn Kennon in representation of all those who have lost their lives or who were injured in any war.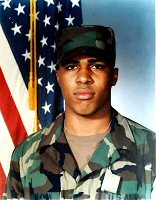 I did not have the privilege to teach or know Staff Sgt. Kennon. I heard about him in a roundabout way. But his story is inspiring because I can visualize Morgan in a high school classroom dreaming about his future. I was deeply touched by his life and his death, and I will share some of this with you now.
Staff Sgt. Kennon was assigned to the 3rd Battalion, 327th Infantry Regiment, 101st Airborne Division (Air Assault) Fort Campbell, Kentucky after four years at Fort Hood, Texas.
He joined the army when he was 17—fresh out of high school. He wanted to earn money for college so he could someday be a lawyer. It was his dream.
Morgan was smart. He was friendly and nicknamed "Angel." He loved the Army and God and he was a loving son. He always helped his mother. He often wrote letters of reassurance home to his family. He was not afraid.
Morgan came under fire by a rocket-propelled grenade attack while he was guarding a bank in Mosul. He died of blunt force trauma while trying to protect his fellow soldiers during the attack.
He was 23.
Morgan's father had great sympathy for soldiers who lost their lives, but he never believed he would lose his own son.
Army Staff Sgt. Morgan D. Kennon received a hero's farewell in Memphis. Five hundred mourners attended services for him including dignitaries.
He received the Bronze Star and the Purple Heart.
Morgan liked to write poetry, although some were untitled. I leave you with one:
My destiny shall stay within the wishes of the all-knowing,
But my effort will stand strong.
My fears will stay buried,
While my bravery lives on.
Thank you for reading this tribute to Morgan, and have a safe Memorial Day.

---
Here you can read the many beautiful comments for Morgan from his friends and family.
http://www.fallenheroesmemorial.com/oif/profiles/kennonmorgand.html
And here is where I learned about Staff Sgt. Morgan D. Kennon in case you would like to read more about him:
http://thefallen.militarytimes.com/army-staff-sgt-morgan-d-kennon/256901
http://101_lha.tripod.com/101st_lha/id171.html