A discussion about IEPs for all students seems to be trending. In an interview with The Nation during the presidential campaign, Jane Sanders talked about IEPs and public schools. It was likely the most we heard about public education at that time.
Here are her words.
It's interesting, because we've made progress with IEPs [Individualized Education Programs] for people with disabilities, or students who need extra help. I think every student should have an individualized educational plan.
As a parent, I had these kids, I didn't know who they were. I wasn't molding them to be me or my husband. What we wanted to do was find out: Who are they? What are their abilities? What are their interests? What are their talents? I think we need to do that in our schools.
Special education teachers and parents may have applauded this idea in the past. If every child had an IEP, we reasoned, teachers could look at differences in all children. Maybe we could drop the labels.
But in today's world, an IEP for every child has taken on new meaning. It isn't what Jane Sanders said, and it is important to distinguish what could happen by giving everyone an IEP.
All-Tech—Personalized Learning
Putting children online to learn is called individualized, competency-based, customized, or mastery learning. The word used most often is personalized learning.
Bill Gates and Mark Zuckerberg realized the concept of the IEP for all students would be great for promoting their kind of education—online instruction.
We now know that this is the end-game, the school transformation or "disruption" towards digital instruction with "guides," not real teachers. Does this look personalized to you?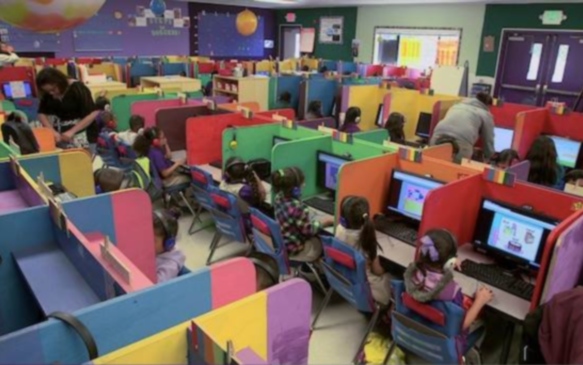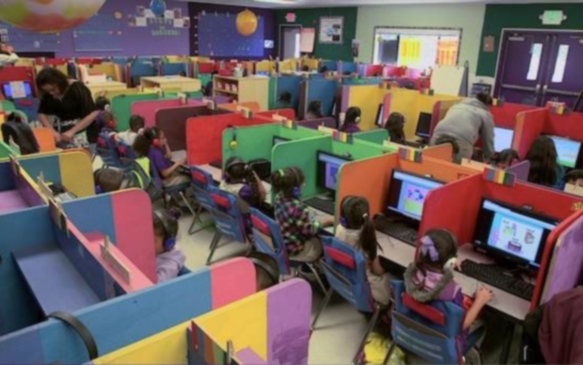 Instead of grades, every student will work according to their skills—online.
But sticking a child in front of a computer isn't personal at all. It's cold and mechanistic. It certainly doesn't lead to the self-discovery Jane Sanders mentioned.
I would prefer to have my child sitting in a circle of other 5 year old children, watching the teacher read a picture book about the alphabet. I would want them engaging with that teacher and the other students, rather than having them sit alone watching an ABC program on the computer.
This would take on added significance when a child has a disability. One of the best achievements for any child, but especially a child with disabilities, is positive acceptance by other students. There's little of this when children all work online.
Teachers, well-prepared to teach reading and other subjects, are much more capable of determining a child's capabilities than a computer. They can choose from a host of resources and remedial materials to help children better understand what they need to learn.
One of the resources a teacher might choose is a computer program. The difference is the teacher is in charge of the instruction.
With today's personalized learning, the computer is the focus. Teachers are removed from the equation.
When teachers are in charge of an IEP, they require smaller class sizes so they can address a child's differences. Corporate school reformers have long been against lowering class sizes, knowing full well that smaller class sizes are the key to a teacher's success.
Massive groups of children working online is their goal, along with data collection that can serve outside marketers.
The Loss of Special Education
There's another concern about the trend of IEPs for all. It involves school choice and charter schools.
Right now public schools are the only place where parents of students with disabilities, and gifted and talented students, get IDEA protections. Give every child an IEP, what will those protections mean?
Betsy DeVos and her corporate friends would like nothing more than to end IDEA. Parents of students with special needs will have little left to keep them in public school. There will be no special services. This opens the door to school choice.
But most choice schools won't honor the special needs of students with disabilities.
And those online schools will find children with disabilities languishing at the computer, never rising above a skill level. Online instruction is useful only if the teacher is involved.
Special education costs more than general education. There's also a profit to be made there.
Watch for online autism or dyslexia-themed charter schools. Don't expect fully-trained special education teachers.
I find it strange that any parent who has fought to have IDEA enforced in a public school setting, would sign on to the segregation they will find in a special needs charter school.
But Bill Gates recently expressed interest in special education and charter schools. If anyone can bend the rules and change the meaning of IDEA it will be those like Gates and DeVos who have a lot of money.
So, the next time someone starts talking about IEPs for all, please stop and reconsider.
Some Other Posts I've Written Relating to this Topic
"Using Students with Special Needs to Privatize Public Schools" 2014
"IEPs for All or Something Else?" 2015
"21 Concerns about Special Education and Competency-Based Education" 2016
"12 Reasons Why Digital Personalized Learning is Not Special Education" 2016.
"IEPs are a Public School Thing: Let's Not Forget That" 2017